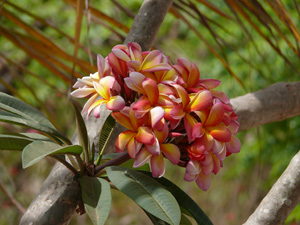 Dear Radio friend!
Welcome to the CQAfrica.net site!
For more, than four years now, I spend a great part of the year in West-Africa, where my spare-time HAM activity has yielded more than 20.000 DX QSOs. Based on my experience and proposed by many hams, I'd like to allow DX enthusiasts to work on the other side of the pileup during a DXpedition or DX holiday in West-Africa, the land of eternal summer, a few hundred meters from one of the most beautiful beaches on the world. Furthermore, our QTHs have the best available location for HF propagation, especially in the Americas and EU directions including salt-water sites and desert regions with incredibly low noise levels.
Eating and accommodations best suiting your needs and budget, international airport, the familiar choice of supplies, lovely, tolerant people and hospitality are awaiting you, should you come alone, with your family or ham friends as well.
Regarding ham activity, we are at your service with full licence administration and fully equipped QTHs. Should you ever get tired in working the huge pileups, lots of interesting attractions, wonderful nature are waiting to be discovered, and, of course the fine cool local beers as well!
73 es DX de Peter
HA3AUI